Upcoming Events
Join Jack & Jill and Shop For A Cause - CHOC!
Shop online at ​www.SunshineGirlsBoutique.comStarts Monday April 24, 25, & 26 Amazing shopping at reasonable prices, just in time for Mother's Day!
Each purchase goes towards supporting CHOC Children's Hospital.
Plus you may win a $50 gift card.
Please share this with all your Facebook friends.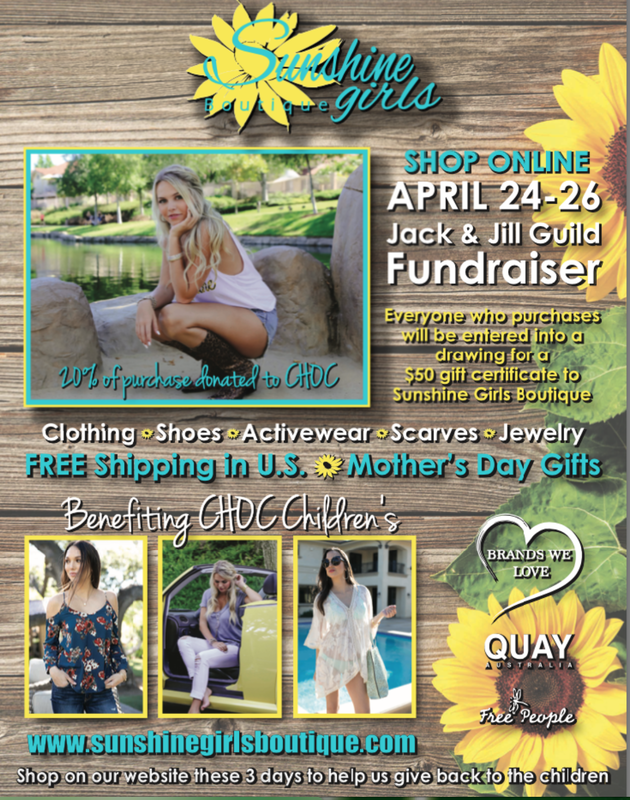 ---
Check out Jack & Jill Memories Page
for Past Events and Memories
---
SAVE THE DATE
"Home for the Holiday" Home Tour & Boutique
Join us for our 46th Annual Home Tour & Boutique
Home Tour
Friday, Nov 17th 2017 10am-5pm
Boutique
Open to the Public - Admission is Free
Thursday, November 16th 6-9pm & Friday the 17th 9am-5pm
All Proceeds Benefit CHOC Children's
---

Proceeds from our events are designated to support CHOC's Radiology Department
and to establish a Radiology Endowment to be held in perpetuity.