Jack & Jill Guild's 46th Annual
Holiday Home Tour & Boutique

Home Tour is Friday, Nov 17th 10am-5pm
Get Your Tickets NOW - $50 Pre-sale tickets includes lunch
​Tour three beautiful homes decorated for the holidays, featuring
spectacular views, creative designs and fabulous landscaping.
Enjoy refreshments and music in the gardens.

Two Day Boutique - Featuring a Variety of Unique Vendors
Opening Night - Thursday, November 16th: 6 - 9pm
Friday, November 17th: 9am - 5pm

*Note Boutique's New Location / Free Admission to the Public
Temple Beth Sholom
2625 N. Tustin, Santa Ana, CA 92705
Enjoy A Sneak Peek
---
Home Details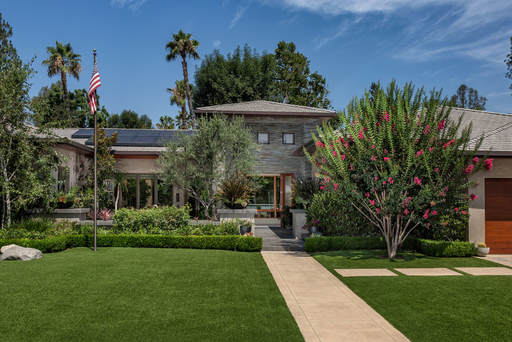 Serene Contemporary
Tom and Tammy Hunt envisioned a contemporary home with clean lines and a warm, relaxing sensibility. Built in 2007, the Hunts, along with architect Jay Crawford and builder Grady & O'Grady, created this lovely 4-bedroom, 4-bath, 4,000 sq. ft. home which is located on a winding, tree-lined private drive in North Tustin.

A striking blue-stone entrance is accented by lavish landscaping, oversized potted plants, and a courtyard with an inviting glass fire pit. The custom wood and glass front doors open into an impressive foyer with an 18-foot ceiling. This serene peaceful setting highlights nature with the use of floor-to-ceiling glass windows and doors throughout the home, which open to their lush backyard that has a rectangular pool and water feature with an ocean-blue-colored tile backdrop.

The counters throughout this L-shaped one-level home are granite, limestone and polished concrete, and the flooring is limestone, polished concrete and teak wood. The cabinetry and doors are honey maple and alder. Crestron lighting technology adds the ambiance for perfect dinner parties.

The dining room features a unique champagne-bubbles chandelier which cascades to the formal dining room table. This space is beautifully completed with a glass wall that displays a dramatic wine room with a 700-bottle capacity that evokes the sense of dining in a winery.

The family plays both piano and guitar and enjoys a large variety of music, including blues, rock and jazz. There is a lovely Petrov grand piano in the living room, and Tom's guitars are artfully showcased on the walls. Artwork is displayed depicting famous jazz musician, Louis Armstrong, as well as the New Orleans Preservation Hall Jazz Band, and the whimsical artwork of New Orleans' artist Chris Antieau.

In the open kitchen, above the stove and maple cabinets, are large hand-colored photographs inspired by iconic childhood memories, by artist Cali Hobgood-Lamme. Many family collectibles decorate the den, which overlooks the outdoor entertainment area with a kitchen and bar and a "pitch & putt" green, perfect for family gatherings.

A big thank you to the Hunt family who welcome you into their Christmas-themed home to benefit CHOC Children's.

---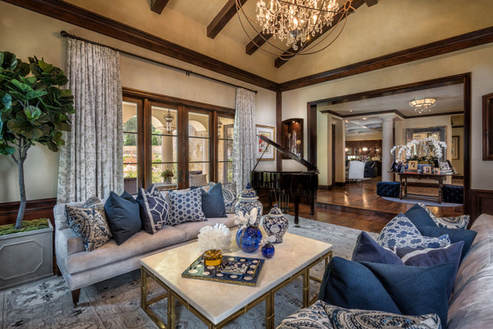 Quiet Cowan Heights Estate
​​Tucked in the tranquil setting of Cowan Heights is the dream home of Dean and Jennifer Fritchle. Desiring a home to which they could add their own touches and enjoy retirement, this one-of-a-kind estate which boasts over 10,000 square feet of indoor/outdoor living space was an instant fit. This spectacular home has seven bedrooms, 7.5 baths, plus separate guest quarters with a kitchenette, a family room, and private entry.
This Tuscan-inspired home is a true example of Old World architecture and New Age technology. A Control4 Home Automation System runs the house efficiently as well as providing state-of-the-art security. With help from designer Christina Moore, the homeowners have incorporated a Santa Barbara style with a beautiful mix of fabrics and exquisite handmade rugs which enhances their eclectic art collection.
Jennifer's favorite part of the house is HER kitchen. With two marble islands and a fireplace in the breakfast nook, she can cook and entertain her grandchildren. With touches such as a hallway leading off the kitchen, copied from a hotel in Florence, and a brick-covered, three-story entry ceiling designed to recreate Bologna's Porticoes, this home is a must see!
As you stroll through the grounds, you will see many entertaining areas for family and friends. An outdoor kitchen, a limestone pool with its own saltwater well, fountains, palms, and an orchard with mature fruit trees are just some of the personal touches the Fritchles have added to their home. The outside pool house is Dean's golf room – complete with a Full-Swing Golf Simulator that converts to a big movie screen, a pool table, and family memorabilia. As you walk past a vineyard to the front of the home, enjoy the display of classic vintage cars owned by Dean and his sons.
The Jack and Jill Guild would like to thank Dean and Jennifer for sharing their beautiful Christmas-themed estate in support of CHOC Children's.

---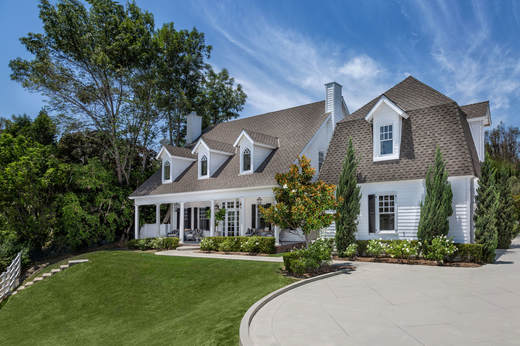 Contemporary Farmhouse
​Holly and Darrick Garcia always had dreams of designing and building their home in North Tustin. Their dreams became a reality in 2004 when they purchased an acre lot on Lemon Heights Drive and began this process. Darrick, with his background in construction and, Holly as an interior designer, designed and built this magnificent southern-inspired farmhouse. They researched traditional southern-style homes and even purchased a set of plans from a historical designer from South Carolina. The architecture, interior design, furnishings, and landscaping all pay tribute to its southern-traditional style while incorporating contemporary elements throughout.

Beautiful Magnolia trees line the driveway to this warm and inviting home. The front porch that faces a stunning mountain view boasts authentic gas lanterns on either side of the front door and a custom swinging porch bed. The entry into the house leads to a traditional center hall floor plan with dramatic tall ceilings, wainscoting, and over scaled lighting throughout this 4,500- square-foot home.

The open-floor concept in the great room and kitchen lend itself to gatherings of family and friends. The kitchen exudes a fresh and clean feel with its white cabinetry, quartz counter tops, and chrome elements. The master suite is pure luxury complete with a large soaking tub, steam shower and rolling library ladder in the closet. The upstairs includes three en suite bedrooms, a large media room with a custom made "couch-bed", and a work out space complete with a golf simulator.

The backyard space is full of personality with its bistro-strung lighting over the gathering area complete with a fireplace, barbecue, and smoker for all of those family parties. A large wooden dining table and coffee table in the space both made by the homeowners' son when he was in high school. When his mom couldn't find the exact size pieces she wanted, he built them for her!

The Garcias are pleased to share their home for benefit of CHOC and be a part of this year's home tour.
---

Proceeds from our events are designated to support CHOC's Radiology Department
and to establish a Radiology Endowment to be held in perpetuity.
​